Back to Resources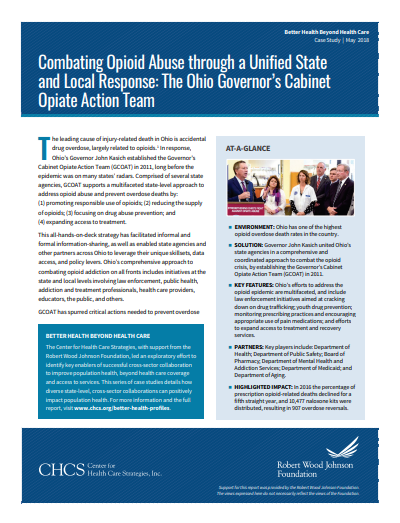 Combating Opioid Abuse Through a Unified State and Local Response: The Ohio Governor's Cabinet Opiate Action
---
This case study looks at Ohio's comprehensive, cross-agency efforts to address opioid abuse and prevent overdose deaths through statewide initiatives that include the promotion of responsible opioid use and expanding access to treatment, among other initiatives.
This all-hands-on-deck strategy has facilitated informal and formal information-sharing, as well as enabled state agencies and other partners across Ohio to leverage their unique skillsets, data access, and policy levers. Ohio's comprehensive approach to combating opioid addiction on all fronts includes initiatives at the state and local levels involving law enforcement, public health, addiction and treatment professionals, health care providers, educators, the public, and others.
This case study is part of a series that details how diverse state-level, cross-sector collaborations can positively impact population health.