RWJF's Approach
The Robert Wood Johnson Foundation believes that health care, public health, and social service organizations must have the capacity and urgency to improve how they work within their organizations, with each other, and with community members.
---
Over the last decade, RWJF and others funded many individual initiatives and projects to achieve cross-sector alignment in communities.
RWJF believes that in order to address complex, community-level barriers to good health—especially for people who find it hard to stay healthy and safe, and make ends meet—cross-sector alignment must be comprehensive and sustained over many years.
Cross-sector alignment is more than collaborative planning or a single joint project; for many, it requires fundamentally new ways of thinking and working together across sectors to improve the health of the people and communities they serve.
To achieve cross-sector alignment, RWJF believes that community members must drive sectors' efforts to:
Share a purpose and set of priority outcomes
Create a shared data and measurement system
Establish sustainable financing with incentives and accountability
Have strong governance infrastructure with leadership, appropriate roles, and defined relationships
A Framework for Aligning Sectors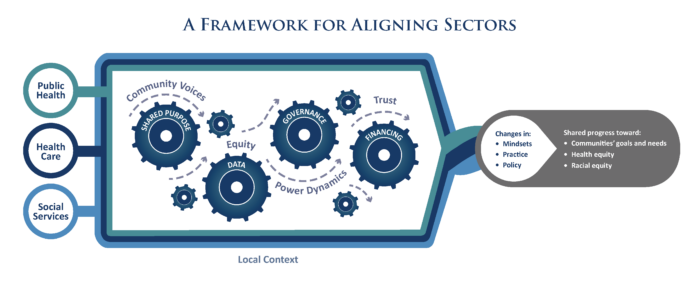 Learn more about the evolution of this framework, led by Aligning Systems for Health. Aligning Systems for Health, funded by RWJF and led by experts at the Georgia Health Policy Center, is exploring and strengthening the evidence base around the approach and the conditions that foster cross-sector alignment.