Back to Resources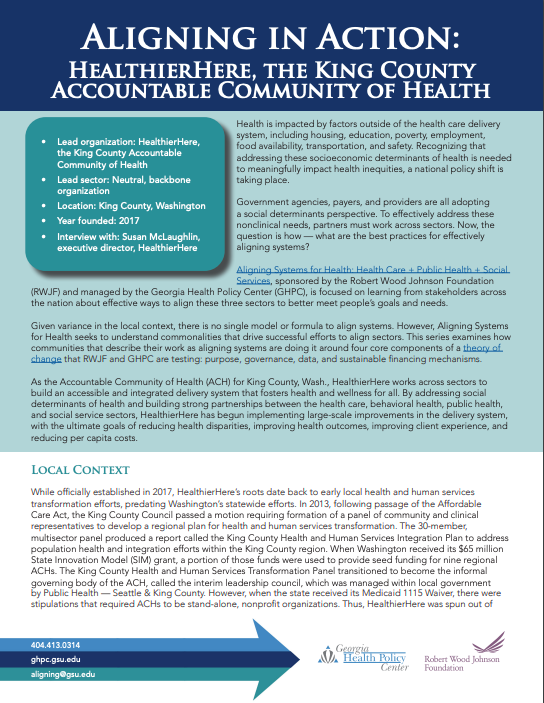 Aligning in Action: HealthierHere, the King County Accountable Community of Health
---
This Aligning in Action case study explores HealthierHere's best practices for effectively aligning systems to meaningfully impact health inequities in King County, Washington.
The case study examines how communities that describe their work as aligning systems are doing it around four core components of a theory of change that the Robert Wood Johnson Foundation and Georgia Health Policy Center are testing: purpose, governance, data, and sustainable financing mechanisms.
As the Accountable Community of Health for King County, Washington, HealthierHere works across sectors to build an accessible and integrated delivery system that fosters health and wellness for all. By addressing social determinants of health and building strong partnerships between the health care, behavioral health, public health, and social service sectors, HealthierHere has begun implementing large-scale improvements in the delivery system, with the ultimate goals of reducing health disparities, improving health outcomes, improving client experience, and reducing per capita costs
Aligning Systems for Health: Health Care + Public Health + Social Services, supported by the Robert Wood Johnson Foundation and managed by the Georgia Health Policy Center, is focused on learning from stakeholders across the nation about effective ways to align these three sectors to better meet people's goals and needs.