Back to Resources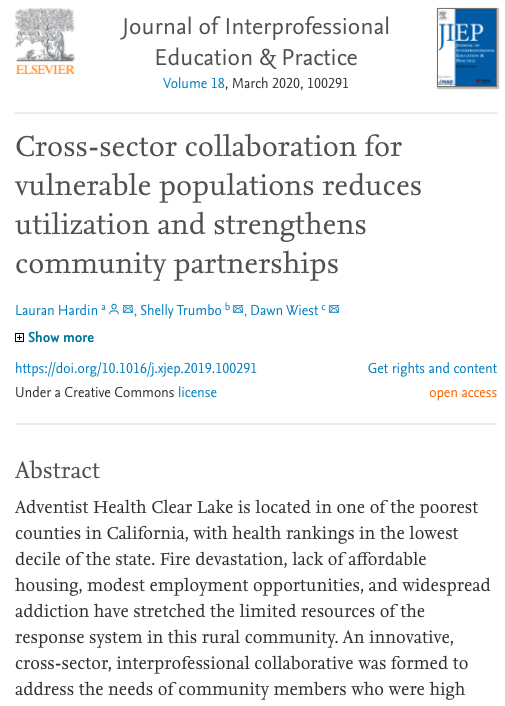 Cross-Sector Collaboration for Vulnerable Population Reduces Utilization and Strengthens Community Partnerships
---
This publication outlines Adventist Health Clear Lake's Project Restoration and its approach to cross-sector collaboration with a shared population of high utilizing community members. It also describes the process and outcomes of the collaboration, provides strategies to mitigate challenges that arise during collaboration, and offers insights to inform similar initiatives in communities nationwide.
The collaborative approach was associated with a 44% reduction in hospital utilization, an 83% reduction in community response system usage, and a 71% reduction in costs for the population.
The Project Restoration model is an example of how resource constrained communities can collaborate across sectors to make a difference. With shared commitment among community stakeholders, Adventist Health Clear Lake put forth a proposal to establish Project Restoration—an initiative to serve the highest utilizers in the community with a multi-stakeholder, cross-sector model of intervention.
In partnership with Camden Coalition's National Center for Complex Health and Social Needs, the Project Restoration Collaborative began its work by analyzing data from a range of service providers to understand the population. From that data, they identified shared metrics across sectors to measure success, created an intervention model with community agencies, and developed a centralized infrastructure to translate lessons learned from individual patients into process improvements for the community.
Adventist Health Clear Lake is located in one of the poorest counties in California, with health rankings in the lowest decile of the state. An innovative, cross-sector, interprofessional collaborative was formed to address the needs of community members who were high utilizers of the police, emergency, criminal justice, and health care systems.