Back to Resources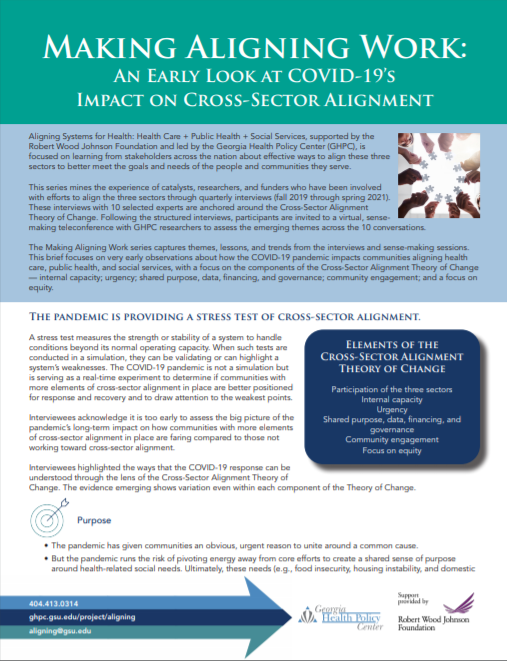 Making Aligning Work: An Early Look at COVID-19's Impact on Cross-Sector Alignment
---
This brief–part of the Aligning Systems for Health's Making Aligning Work series–focuses on very early observations about how the COVID-19 pandemic impacts communities aligning health care, public health, and social services, with a focus on the components of the Cross-Sector Alignment Theory of Change — internal capacity; urgency; shared purpose, data, financing, and governance; community engagement; and a focus on equity.
Click here to view the entire Making Aligning Work series
This series mines the experience of catalysts, researchers, and funders who have been involved with efforts to align the three sectors through quarterly interviews (fall 2019 through spring 2021). These interviews with 10 selected experts are anchored around the cross-sector alignment theory of change. Following the structured interviews, participants are invited to a virtual, sense-making teleconference with GHPC researchers to assess the emerging themes across the 10 conversations.
Aligning Systems for Health: Health Care + Public Health + Social Services, supported by the Robert Wood Johnson Foundation and managed by the Georgia Health Policy Center, is focused on learning from stakeholders across the nation about effective ways to align these three sectors to better meet people's goals and needs.