Back to Resources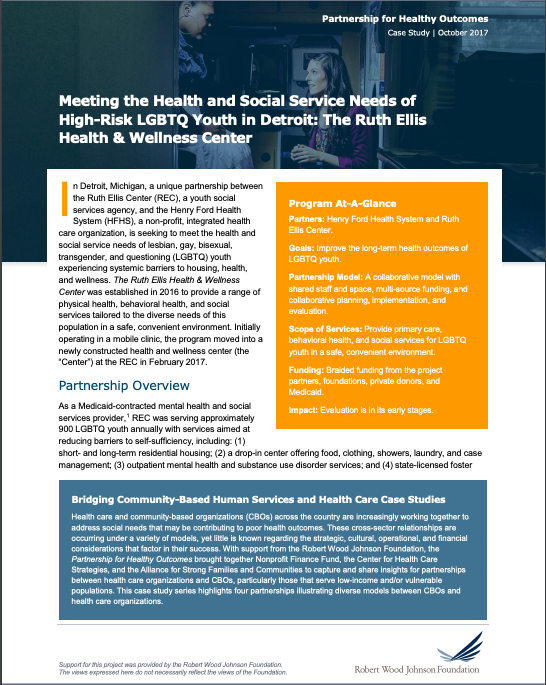 Meeting the Health and Social Service Needs of High-Risk LGBTQ Youth in Detroit: The Ruth Ellis Health & Wellness Center
---
This case study highlights a unique partnership between the Ruth Ellis Center (a youth social services agency) and the Henry Ford Health System (an integrated health care organization), which seeks to meet the health and social service needs of lesbian, gay, bisexual, transgender, and questioning youth experiencing systemic barriers to housing, health, and wellness and improve the long-term health outcomes for one of the region's most vulnerable populations.
The partnership's integrated model of care delivers medical, behavioral health, and social services all in the newly built Ruth Ellis Center. Henry Ford Health System provides general primary care and services targeted to the population's health needs and risks. The Ruth Ellis Center team complements physical health services with behavioral health and social services. The program's care model is bi-directional, with primary care providers identifying behavioral health and social service needs in patients, and behavioral health providers making referrals to primary care and social services.
Success factors include:
Well-matched values and goals
A thoughtful and measured ramp-up period
Relevant experience and complementary expertise
Balanced collaboration
The Partnership for Healthy Outcomes, a project of the Center for Health Care Strategies, Nonprofit Finance Fund, and the Alliance for Strong Families and Communities, captured and shared insights for partnerships, particularly those that serve low-income and/or vulnerable populations.