Back to Resources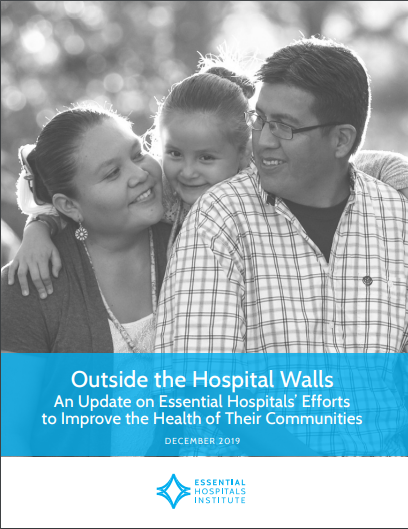 Outside the Hospital Walls: An Update on Essential Hospitals' Efforts to Improve the Health of Their Communities
---
This report highlights both the successes and remaining opportunities for social determinants of health work at essential hospitals. It presents evidence collected through a 2019 survey and interviews with population health executives, explores these findings, and compares the evidence with prior research.
Essential hospitals, given their missions and community characteristics, always have provided care to vulnerable populations. Patients of essential hospitals often face barriers to accessing and affording health care and struggle with multiple chronic conditions. In 2017, 23.9 million individuals served by essential hospitals were living below the poverty line, and 17.1 million individuals had no health insurance. Essential hospitals are often the first responders and the safety net for these individuals.
Patients of essential hospitals are particularly challenged by negative effects of social determinants of health—the conditions in which
individuals live, work, and play that affect health outcomes. In 2017, 10 million people in communities served by essential hospitals had limited access to healthy food, and 360,000 individuals were homeless. We now know that social, economic, and environmental conditions can account for as much as 50 percent of what determines a person's health. A lack of safe housing and healthy food, along with other limitations, can exacerbate existing health problems and create additional ones.
Policy and payment models have started to shift their emphasis from volume to value. The transition from fee-for service models to value-based payment tasks hospitals with not only providing quality care for their patients but also fostering healthy communities. Essential
hospitals have found themselves at the forefront of this change because of their role within vulnerable communities as large employers, care providers, and sources of community support.
Recognizing the correlation between socio-economic factors and health,
many essential hospitals have begun to address social needs. Essential
hospitals may target such needs as hunger or homelessness in their patient populations by providing free or subsidized resources. For example, essential hospitals may provide vouchers for a local food bank to give patients access to healthy, fresh foods for themselves and their families. Targeting these social needs can help patients better manage their conditions, resulting in improved health outcomes.