Back to Resources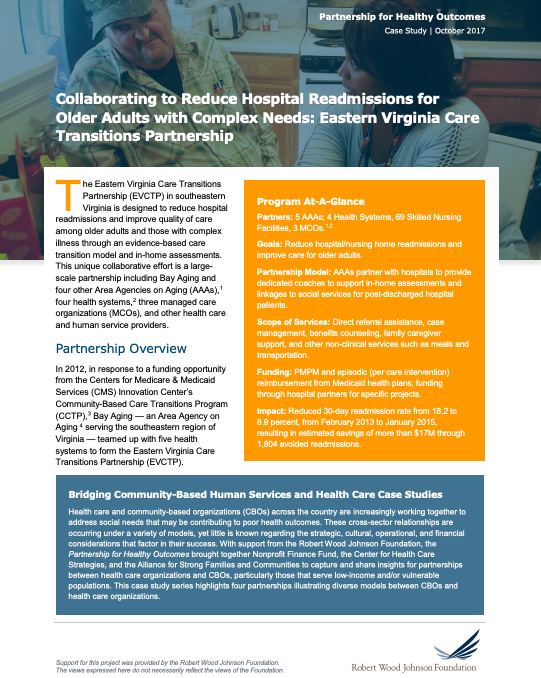 Collaborating to Reduce Hospital Readmissions for Older Adults With Complex Needs: Eastern Virginia Care Transitions Partnership
---
This case study features The Eastern Virginia Care Transitions Partnership (EVCTP), which includes more than 80 health care and social services organizations and is designed to reduce hospital readmissions and improve quality of care among older adults and those with complex illness through an evidence-based care transition model and in-home assessments.
This unique collaborative effort is a large-scale partnership including Bay Aging and four other Area Agencies on Aging, four health systems, three managed care organizations, and other health care and human service providers.
From February 2013 to January 2015, EVCTP reduced 30-day readmission rate from 18.2 to 8.9 percent, resulting in estimated savings of more than $17M through 1,804 avoided readmissions.

With support from the Robert Wood Johnson Foundation, the Partnership for Healthy Outcomes brought together Nonprofit Finance Fund, the Center for Health Care Strategies, and the Alliance for Strong Families and Communities to capture and share insights for partnerships between health care organizations and community-based organizations (CBOs), particularly those that serve low-income and/or vulnerable populations. This case study series highlights four partnerships illustrating diverse models between CBOs and health care organizations.