Aligning Systems for Health
Project Overview
Aligning Systems for Health, funded by the Robert Wood Johnson Foundation and under the direction of Karen Minyard and Glenn Landers at the Georgia Health Policy Center, focuses on identifying, testing, and sharing what works to align health care, public health, and social services to better address the goals and needs of the people and communities they serve. The project will:
Synthesize existing research learnings and disseminate findings
Support original research and evaluation
Build relationships with those already working in the field
The work is guided by the Technical Advisory Committee comprised of local and national leaders.
Latest Resources
Publication
A Theory of Change for Aligning Health Care, Public Health, and Social Services in the Time of COVID-19
Case Study
Aligning in Action: Western Idaho Community Health Collaborative
Brief
Cross-Sector Alignment and the Response to COVID-19: What Can We Learn from Research on Cross-Sector Alignment?
See All Aligning Systems for Health Resources
Research
GHPC awarded $2.4 million in research awards to these seven grantees:
In fall 2019, GHPC awarded six rapid-cycle research and evaluation grants: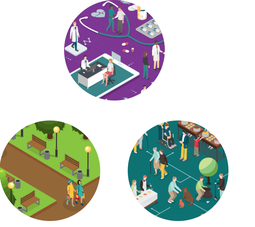 In spring 2020, GHPC awarded four rapid-cycle research and evaluation grants to examine cross-sector alignment efforts in response to COVID-19: