Back to Resources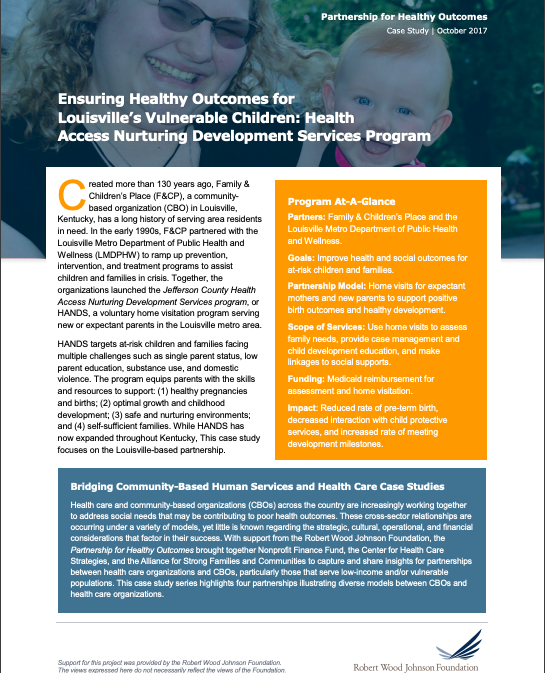 Ensuring Healthy Outcomes for Louisville's Vulnerable Children: Health Access Nurturing Development Services Program
---
This case study looks at a partnership between Family & Children's Place and the Louisville Metro Department of Public Health and Wellness that provides home visitation services for new and expectant parents to equip them with the skills to support a healthy family.
Together, the organizations launched the Jefferson County Health Access Nurturing Development Services program–HANDS–a voluntary home visitation program serving new or expectant parents in the Louisville metro area. HANDS targets at-risk children and families facing multiple challenges such as single parent status, low parent education, substance use, and domestic violence.
The program equips parents with the skills and resources to support healthy pregnancies and births; optimal growth and childhood development; safe and nurturing environments; and self-sufficient families. While HANDS has now expanded throughout Kentucky, this case study focuses on the Louisville-based partners.
An evaluation shows that HANDS participation is generally associated with positive pregnancy outcomes, particularly among teen moms.
With support from the Robert Wood Johnson Foundation, the Partnership for Healthy Outcomes brought together Nonprofit Finance Fund, the Center for Health Care Strategies, and the Alliance for Strong Families and Communities to capture and share insights for partnerships between health care organizations and community-based organizations (CBOs), particularly those that serve low-income and/or vulnerable populations. This case study series highlights four partnerships illustrating diverse models between CBOs and health care organizations.