Back to Resources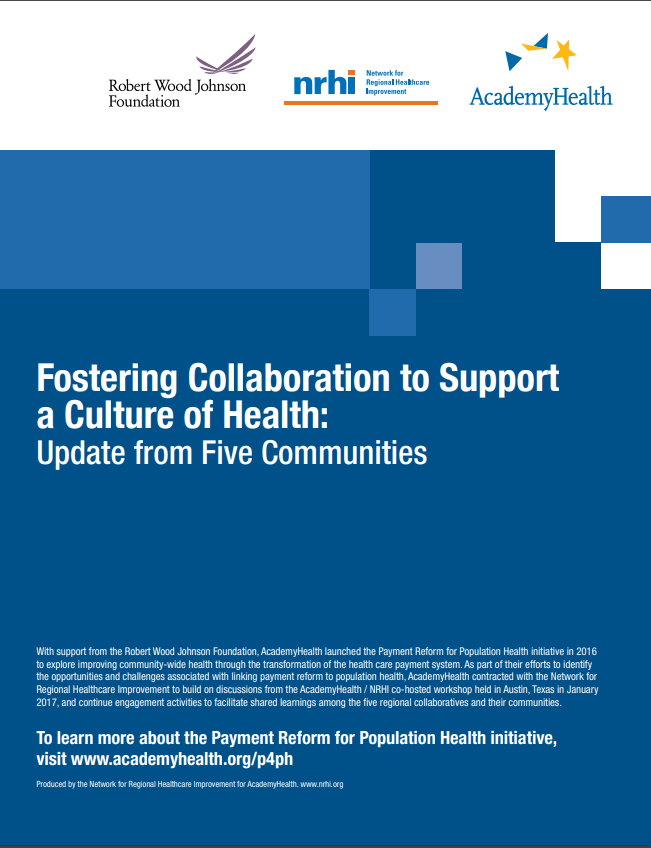 Fostering Collaboration to Support a Culture of Health: Update from Five Communities
---
This report details activities in key areas that influence the conditions and collaborations necessary to support non-clinical community-wide population health services, including cross-sector collaboration; metrics, data, and evidence; care delivery requirements and incentives; and payment and financing.
With support from the Robert Wood Johnson Foundation, AcademyHealth launched the Payment Reform for Population Health initiative in 2016 to explore improving community-wide health through the transformation of the health care payment system.
As part of their efforts to identify the opportunities and challenges associated with linking payment reform to population health, AcademyHealth contracted with the Network for Regional Healthcare Improvement to build on discussions from the AcademyHealth / NRHI co-hosted workshop held in Austin, Texas in January 2017, and continue engagement activities to facilitate shared learnings among the five regional collaboratives and their communities in from Hilo, HI; Detroit, MI; Cincinnati, OH; Philadelphia, PA; and Washington State.