Back to Resources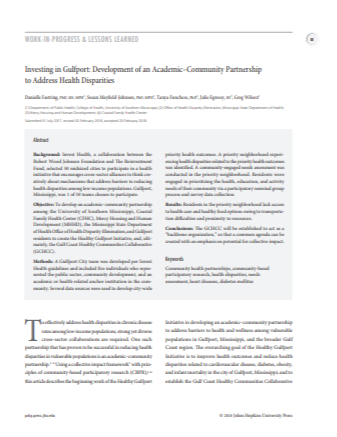 Investing in Gulfport: Development of an Academic–Community Partnership to Address Health Disparities
---
This article, published in Progress in Community Health Partnerships: Research, Education, and Action, describes the beginning work of the Healthy Gulfport Initiative in developing an academic–community partnership to address barriers to health and wellness among vulnerable populations in Gulfport, Mississippi, and the broader Gulf Coast region.
The overarching goal of the Healthy Gulfport Initiative is to improve health outcomes and reduce health disparities related to cardiovascular disease, diabetes, obesity, and infant mortality in the city of Gulfport, Mississippi; and to establish the Gulf Coast Healthy Communities Collaborative that brings together partners across multiple sectors to catalyze community-informed, data-driven action at the intersection of community development and health.
Invest Health, a collaboration between the Robert Wood Johnson Foundation and The Reinvestment Fund, selected 50 midsized cities to participate in a health initiative that encourages cross-sector alliances to think creatively about mechanisms that address barriers to reducing health disparities among low-income populations. Gulfport, Mississippi, was one of 50 teams chosen to participate.