Back to Resources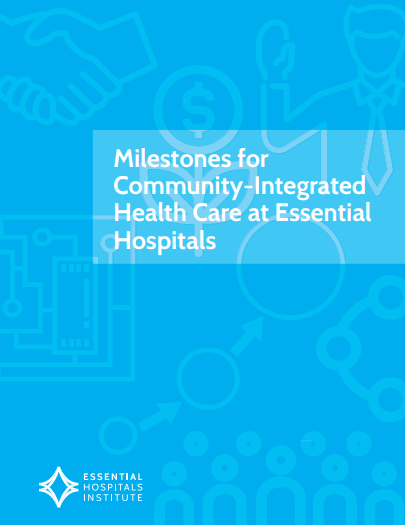 Milestones for Community-Integrated Health Care at Essential Hospitals
---
This report identifies activities in which essential hospitals can engage as they begin to work outside their walls, specifically aspects of organizational commitment, workforce development, community engagement, external partnerships, health information technology and data, and finance and investment.
Even as essential hospitals deliver high-quality medical care, the health of their communities is strongly influenced by the social determinants of health. In 2017, 23.9 million individuals served by essential hospitals were living below the poverty line, and 17.1 million individuals had no health insurance. Essential hospitals are often the first responders and the safety net for these individuals, providing high quality care to the patients who need it most. As anchor institutions, essential hospitals have significant capacity to improve the health of their patients, neighbors, and communities.
Improving the health of the community necessitates partnership across sectors. America's Essential Hospital's Essential Hospitals Institute created these milestones to provide essential hospitals with actionable steps toward community-integrated health care.
The milestones outlined in this document are a culmination of best practices, examples, and strategies used by essential hospitals. This resource highlights key actions and activities essential hospitals can take to enhance community-integrated health care and address their communities' social needs and underlying conditions.