Back to Resources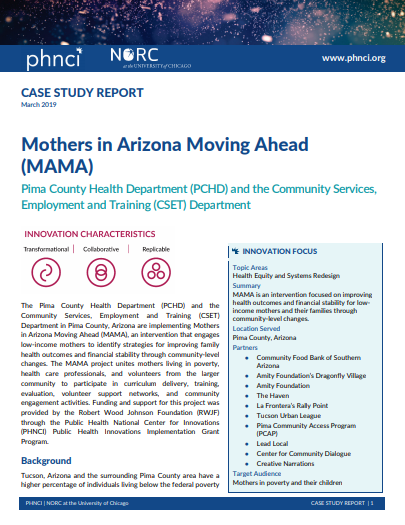 Mothers in Arizona Moving Ahead: Pima County Health Department and the Community Services, Employment, and Training Department
---
This case study details Mothers in Arizona Moving Ahead (MAMA)—by the Pima County Health Department (PCHD) and the Community Services, Employment and Training (CSET) Department in Pima County, Arizona—an intervention that engages low-income mothers to identify strategies for improving family health outcomes and financial stability through community-level changes.
The MAMA project unites mothers living in poverty, health care professionals, and volunteers from the larger community to participate in curriculum delivery, training, evaluation, volunteer support networks, and community engagement activities.
The MAMA project aims to create individual and systems-level changes to:
Improve health outcomes for families living in poverty by increasing program participants' self-efficacy, health-related knowledge, engagement with health care systems, and development of advocacy skills;
Improve the ability and capacity of health care professionals and community volunteers to serve families living in poverty and connect them to essential services, such as health care providers and legal assistance; and
Collect and synthesize data and information to identify potential improvements to the health care system and the delivery of services.
Funding and support for this project was provided by the Robert Wood Johnson Foundation through the Public Health National Center for Innovations' Public Health Innovations Implementation Grant Program.