Back to Resources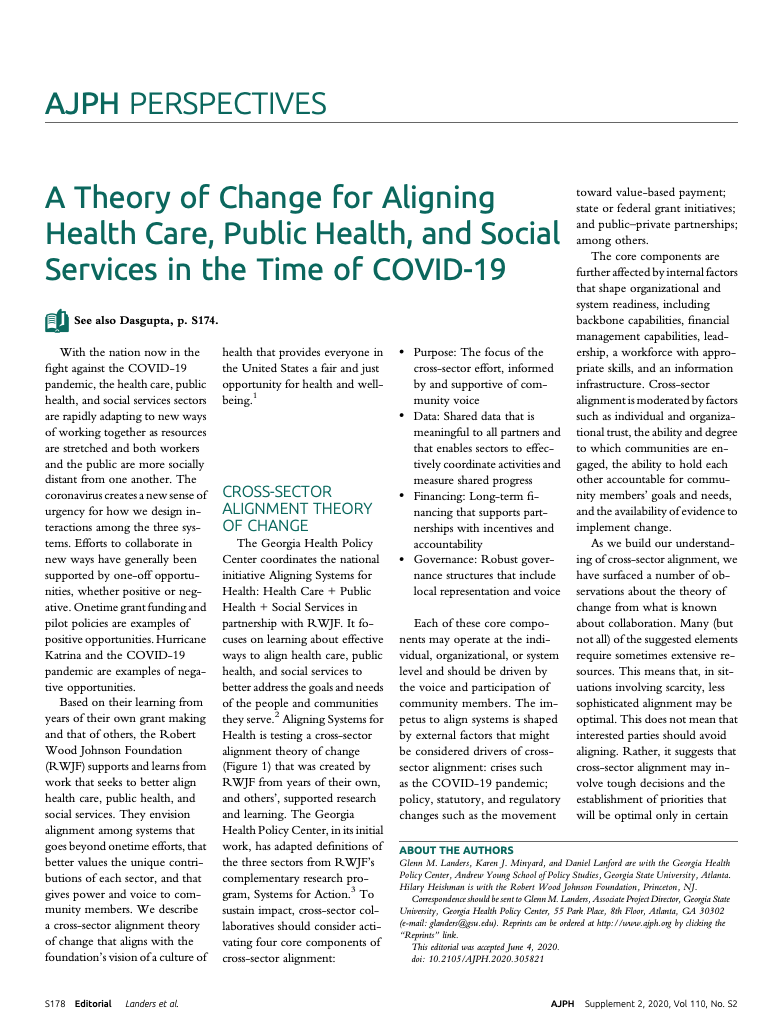 A Theory of Change for Aligning Health Care, Public Health, and Social Services in the Time of COVID-19
---
This article, published by Georgia Health Policy Center researchers in the American Journal of Public Health, highlights how the core components of cross-sector alignment along with the principles of community voice and health equity can be used to design interactions among health care, public health, and social services that better meet the goals and needs of the people and communities they serve in a way that is built to last.
At its core is the idea that collaboratives will be more successful if they move toward cross-sector alignment, which involves building sustainable connections across organizations and sectors such as developing a shared purpose, governance structures, financing with incentives and accountability, and shared data and measurement systems. These connections can help public health, health care, and social services together improve community well-being and health equity, when combined with external urgency, organizational capacity, and community engagement.
With the nation now in the fight against the COVID-19 pandemic, the health care, public health, and social services sectors are rapidly adapting to new ways of working together as resources are stretched and both workers and the public are more socially distant from one another. The coronavirus creates a new sense of urgency for how we design interactions among the three systems.
This article is authored by Glenn M. Landers, Karen J. Minyard, and Daniel Lanford with the Georgia Health Policy Center, and Hilary Heishman with the Robert Wood Johnson Foundation. These findings are part of a collection of 15 new studies released on July 14, 2020, in a special issue of the American Journal of Public Health, all focused on the topic of aligning health and social systems to improve population health.