Back to Resources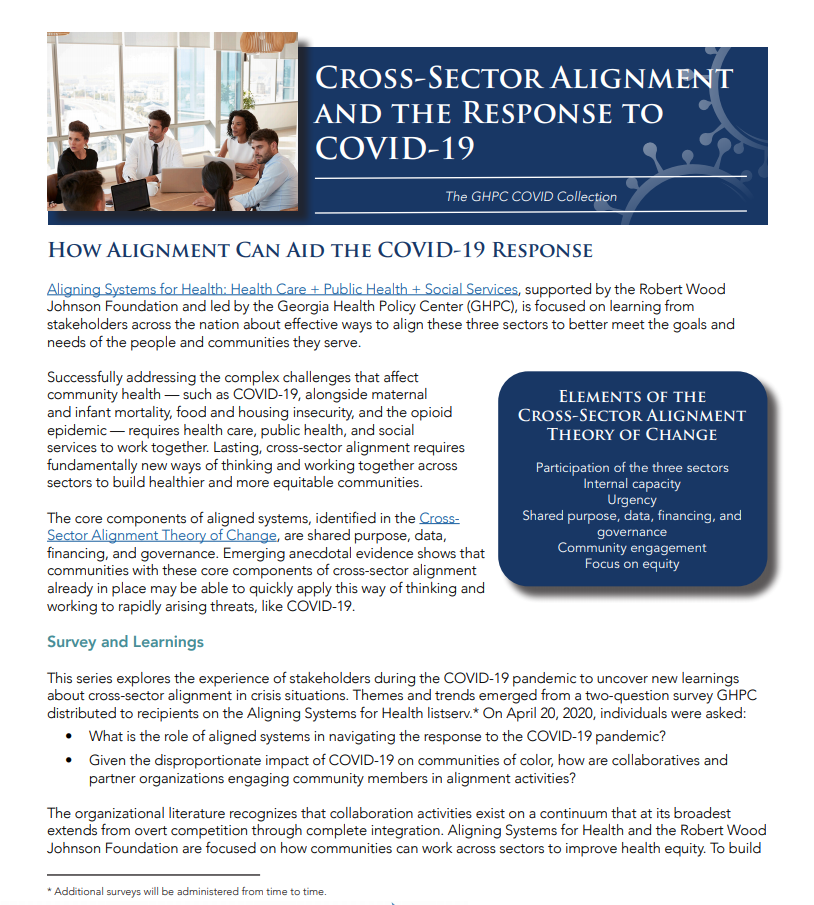 Cross-Sector Alignment and the Response to COVID-19: How Alignment Can Aid the COVID-19 Response
---
This brief examines emerging anecdotal evidence that shows communities with the core components of cross-sector alignment (shared purpose, data, financing, and governance) already in place may be able to quickly apply this way of thinking and working to rapidly arising threats, like COVID-19.
COVID-19 response requires that the health care, public health, and social service sectors communicate, coordinate, collaborate, and, ultimately, align to meet the goals and needs of individuals and communities. It is generally understood that cross-sector alignment that is built to last requires time, trust, and patience. Current circumstances provide a sense of urgency to drive sectors to work together in order to create an equitable response and innovative solutions to complex challenges.
The organizational literature recognizes that collaboration activities exist on a continuum that at its broadest extends from overt competition through complete integration. Aligning Systems for Health and the Robert Wood Johnson Foundation are focused on how communities can work across sectors to improve health equity. To build healthier and more equitable communities, these cross-sector efforts must extend beyond even collaboration (defined as "exchanging information for mutual benefit, and altering activities, sharing resources, and enhancing the capacity of another to achieve a common purpose").
Survey responses point to several common themes that highlight the significance of communication, coordination, and collaboration among systems responding to the COVID-19 pandemic.